Rise.ai was designed to manage all your brand's re-engagement activity – Gift Cards, Loyalty Cards, Rewards, Referrals and Refunds.
Rise.ai empowers fast-growing brands with the first automated branded currency solution – gift cards, rewards, store credit & incentives Rise.ai is a strategic re-engagement solution that provides brands and retailers with a unique currency of their own. Powered by Artificial Intelligence, Rise.ai helps merchants grow by retaining customers and increasing their average spending.
They strive to provide brands with the high-performance technologies they need to ignite growth and achieve limitless scale.
Your Time to Rise Is Now
On-Site Conversion
Sell More Gift Cards
Allow customers to send branded Gift Cards directly to recipients, with our stunning Gift Card gallery & customization options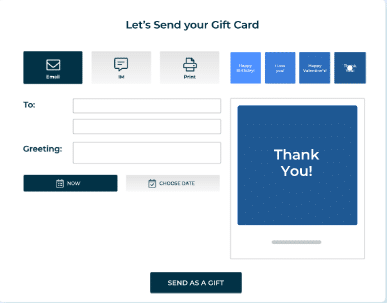 Long-Term Retention
Intuitive Loyalty Programs
Use Workflows – the first automated rules solution for Rewards and Loyalty, utilizing Store Credit to engage with your customers